PERMANENT RETURN OF THE IT DIRECTOR
PERMANENT RETURN OF THE IT DIRECTOR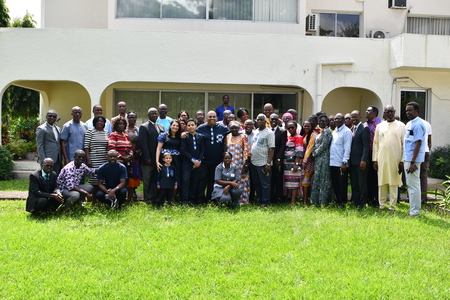 [Photo- Gustave: Family picture]
The Division says goodbye to Brother Sousa Serre Nunes Marcos, its IT Director. Brother Marcos arrived in Côte d'Ivoire on December 9, 2020 and took office on December 10, 2020 as IT Director.  For 1 year and 8 months, Marcos has led this department with his direct colleague, Brother Assogba Dieudonné. The staff and administration have praised Brother Marcos for his good and loyal service. He is returning to his native Brazil for family reasons of great importance.
| | | |
| --- | --- | --- |
| [Photo - Gustave: Marcos family] | [Photo - Gustave: Director Marcos and his direct colleague Dieudonné Assogba] | [Photo - Gustave: Bindas Family and Marcos family] |
On this send-off day, all testimonies agreed that he is a simple, kind, easy-going, helpful, spiritual man who has really contributed a lot to the Division by his sense of work. The administration honored this great man in front of his family (his wife and their two children) and the staff of the Division. 
[Photo - Gustave: Division gift]
[Photo - Gustave: Pasteur Sessou -

Executive Secretary

, Madam Weick, Marcos family and Elder Dangana - Division Treasurer]
The family leaves the Côte d'Ivoire on August 1, 2022 with many beautiful memories and a beautiful spiritual experience.
| | | |
| --- | --- | --- |
| [Photo - Gustave: Sister Leonie Agbessi and Marcos family] | [Photo - Gustave: Elder Bakari, Comunication Director and Marcos family] | [Photo - Gustave: Family picture] |