FAREWELL CEREMONY
Cérémonie d'au revoir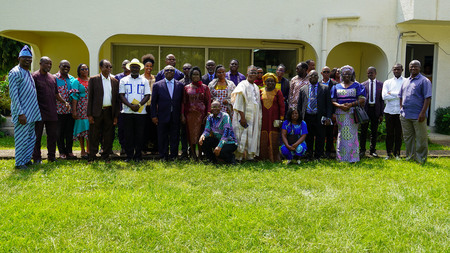 [Photo - Ouattara H: Family picture]
The service of the 15 departing missionaries was acknowledged during a send forth ceremony on Monday, August 8, 2022.
They include Mrs. EFFANGONO ESSONO Epse NDAA JUSTINE; Dr. NDAA; Prof. OPOKU-BOATENG, DANIEL; Mrs. OPOKU-BOATENG, SARAH; Pr. MANU, EMMANUEL STEPHEN DUAH; Mrs. MANU, MARGARET NYARKO; Pr. BINDAS, STEPHEN HARUNA; Mrs. BINDAS, SARAH TITAH; Pr. BADU, JAMES KWAKU; Pr.  ENANG, NKERUWEM JOHN; Mrs. ENANG, HELEN NKERUWEM; Dr. ANONABA, KINGSLEY CHUKWUEMEKA; Mrs. ANONABA, PATIENCE ONYINYECHI; Dr. WEICK-DIDO, ELIE; Mrs. WEICK-DIDO, AMY RACHEL. They leave marked by the seal of love.
| | | |
| --- | --- | --- |
| Pastor Elie Weick-Dido and his spouse | Pastor Daniel Opoku-Boateng and his spouse | Pastor Bindas Stephen and his spouse |
| Pastor Badu James and his spouse |   | Pastor, Doctor N'Daa and his spouse |
The new leaders of the West-Central Africa Division (WAD) as well as the staff, the administrators of the Côte d'Ivoire Conference, the North West Cote d'Ivoire Mission, honored and thanked the former WAD administration team, the pastors and their wives who are retiring. It was in an atmosphere of fraternity marked with emotions.
| | | |
| --- | --- | --- |
| Elder Dangana Markus, WAD Treasurer, addresses retirees | Pastor Robert Osei-Bonsu, WAD President, addresses retirees retraités | The Administrators of the Côte d'Ivoire Conference (Left -Right) : Elder Innocent Amon, Treasurer - Pastor Thio Tigué, President - Pastor Frédérique Badjo, Executive Secretary. |
| Pastor N'Drin Charles, President of the west Mission of Côte d'Ivoire. |   | Les Administrateurs de la Federation du Sud Côte d'Ivoire (G-D): Elder Innocent Amon, Trésorier - Pasteur Thio Tigué, President - Pasteur Frédérique Badjo, Secrétaire Exécutif. |
| | | |
WAD Editor
Photo: Ouattara Hyacinthe